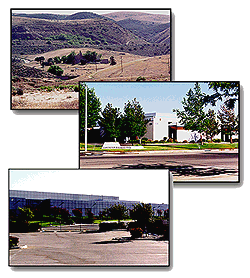 What are the advantages of doing business with Stello Real Estate, Inc.? We are a locally owned and managed corporation that provides personalized service. Our clients have the security of knowing we have been established in the Antelope Valley for 40 years and we will be here for a long time to come.
Sincerely,
Joseph Stello, President
Its owner and president, Joseph Stello, formed Stello Real Estate, Inc. in Lancaster, California in 1962. Joseph Stello is a licensed real estate broker with 40 years of experience. Joe enjoys a reputation of honesty, integrity, and high ethics. The company has developed from a specialize small company supplying wholesale raw land to land dealers throughout the United States. We have expanded our expertise to cover commercial and industrial leasing and sales of buildings in Lancaster and Palmdale areas, as well as continuing our land business.

Joseph is a member of the:
Greater Antelope Valley Association of REALTORS®
California Association of Realtors
Lancaster Chamber of Commerce
Palmdale Chamber of Commerce
Our staff consists of:
Joseph Stello specializing in the land market in Lancaster, Palmdale, Rosamond, California City, areas as well as surrounding Antelope Valley areas.

Fred A. Petrarca, CCIM heads up our commercial division. His expertise is in the commercial and industrial leasing, as well as the sale of commercial and industrial buildings.

Katrina M. Stello, Vice President, specializes in customer service and problem solving.

Stello Real Estate, Inc. provides Antelope Valley parcels at wholesale prices for retail customers all over the world. We serve clients as far away as Hong Kong, Japan, Bangkok. Our marketing staff targets not only the United States but also Europe, Asia, and the Eastern Countries.


Stello Real Estate, Inc. 42450 12th Street West, Lancaster, CA 93534 Voice: 661.948.4741, Fax: 661.948.6950





Produced by:



Copyright © Engineering Network Systems Inc. 1999
All Rights Reserved